Scotland's Kinkiest Families
November 14, 2021
I've finally put some of this model out into the world - to almost zero response so far, but that's OK.
This was originally just a testing exercise. The Budget Constraint generator has always been a great way of ferreting out all the weirdness in a model: it finds all the discontinuities, marginal effective tax rates (METRs) that go the 'wrong' way.
Like this one: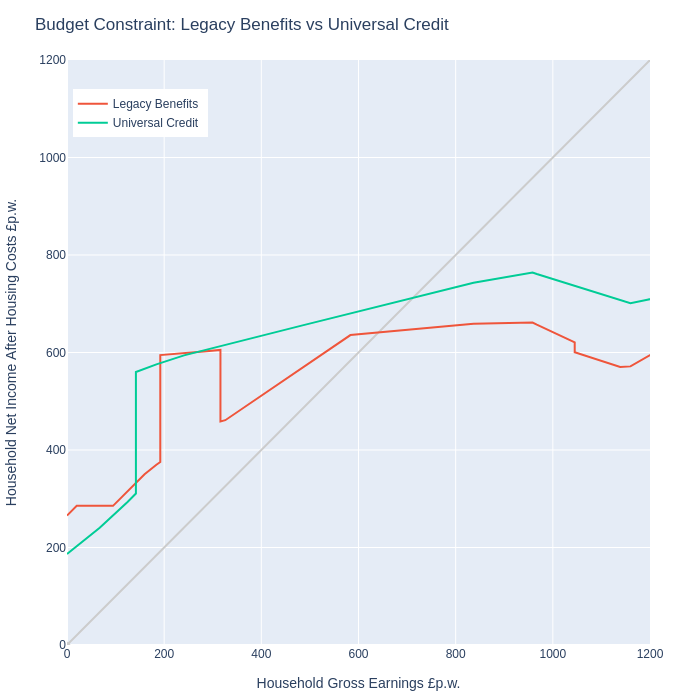 This shows the gross/net income relationship for a family with 7 children and £270pw in housing costs, living in a council house. So a pretty unusual family, but still.. Both the legacy system (red) and UC (greeen) are shown.
There's a lot going on here. Key things are:
Benefit Cap. This limits the amount of benefits received, but not for Working Tax Credit recipients (Legacy) and only for those earning below £617pm (UC). Hence the big jumps upward at the points where the family qualifies for WTC or earns £617, and back down in the Legacy case when WTC entitlement is exausted.
The downward sections on the right are a combination of child benefit withdrawal over £50,000 per year (50%), higher rate income tax, and UC/WTC withdrawal (these can go surprisingly high up for large families).
There are other weird ones, too, like the interaction between the Discresionary Housing Payments the Scottish government use to ameliorate the Bedroom Tax and the benefit cap - these combined can produce negative marginal tax rates.